Held annually since 2008, PROSTAID Calgary/PCCN Calgary's Fun in the 50's Festival is a popular event attracting hundreds of cars and thousands of spectators. This year, the event is being hosted on Sunday, July 1 at the Blind Beggar Pub, Macleod Village Mall/4608 Macleod Trail SW.
The winning ticket for the Fun in the 50's 50/50 Raffle is #3835598. Our volunteers raised a total of $796 for the winning jackpot. The winner will take home $398.
Registration is from 9am - 12pm
The Festival runs from 10am - 4pm
The Man Van will be on location offering free PSA tests to men 40+.
The Fun in the 50's Festival will feature prizes, trophies, a Dark Side Racing "Cackle Fest", and hundreds of amazing classic cars. Join us for this great community event to help raise awareness to prostate cancer.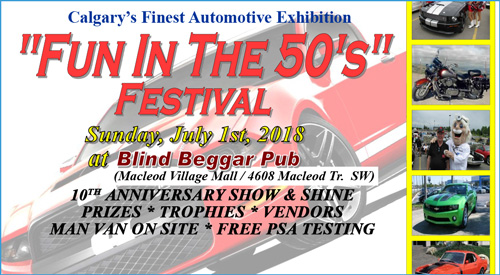 Click here for the full brochure.