In October 2018 Jessica Yuck, a practicum student at University of Western Ontario, researched the prostate cancer treatments available across Canada where information was available. The main goal is to provide men and their families with an understanding of the various treatment options available to help improve their health outcomes. The information was obtained from web sites, and email and telephone requests.
PROSTAID Calgary is please to provide a summary of her findings. It is beyond the scope of this report to describe each of the treatments. These can be easily found on various web sites list at http://pccncalgary.org/n_links.php.
In her conclusion it is worth noting that treatment information is not easily found:
" The fact that I had such a difficult time gathering such small amounts of data over the course of several weeks throughout my practicum, indicates how inaccessible this information is to the public. It is essential that we advocate for a change in the way health information is displayed to the public online. I strongly believe that all regional healthcare administrations should be required to provide a minimum level of healthcare information to the public. In addition, all information should be formatted in a similar manner in order to increase clarity for those seeking pertinent answers to their healthcare concerns."
PROSTAID Calgary agrees that healthcare information and treatments for prostate cancer should be easily and readily available.

Table 1 lists all prostate cancer treatments found on the Canadian Cancer Society's website. This information provided a reference for treatments when conducting the systematic web search.
Table 1. Prostate cancer treatments listed on the Canadian Cancer Society website*
Prostate Cancer Treatments
Subcategories

Active Surveillance

None

Surgery

Radical prostatectomy
Retropubic radical prostatectomy
Perineal radical prostatectomy
Laparoscopic radical prostatectomy
Robotic radical prostatectomy
Nerve-sparing radical prostatectomy
Transurethral resection of the prostate (TURP)
Cryosurgery
Pelvic lymph node dissection (PLND)

Radiation therapy

External beam radiation therapy
3-dimensional conformal radiation therapy (3-D CRT)
Intensity-modulated radiation therapy (IMRT)
Stereotactic
Gamma Knife
CyberKnife
Tomotherapy
Brachytherapy (internal radiation therapy)
Low-dose-rate (LDR) brachytherapy
High-dose-rate (HDR) brachytherapy
Proton beam radiation therapy
Systemic radiation therapy

Hormonal therapy

Medications
Luteinizing hormone-releasing hormone (LHRH) antagonists
Androgen deprivation therapy (ADT)
Estrogens
Orchiectomy (surgical castration)

Chemotherapy

Drugs available:
Docetaxel (Taxotere)
Mitoxantrone
Cabazitaxel (Jevtana)
Estramustine (Emcyt)
Paclitaxel (Taxol)
Doxorubicin (Adrimycin)
Epirubicin (Pharmorubicin)
Vinorelbine (Navelbine)

High-intensity focused ultrasound (HIFU)

None

Corticosteroids
*Information retrieved from Canadian Cancer Society (no date)

Table 2             
Table 2 lists the 7 provinces that replied to the email correspondence regarding treatment options by province. Answers vary significantly
Table 2. Responses by healthcare workers and prostate cancer support groups via email correspondence or phone calls
Province/Territory
Response

Alberta1

Provided the following list of treatment options:
External beam radiation
Brachytherapy
Cryoablation surgery
Radical open prostatectomy
Robotic prostatectomy
Also provided a PowerPoint with explanations of each option

Manitoba2

Stated that the only treatment option not available is "robotic prostatectomy"

New Brunswick3

Provided lists of the three major types of treatments undergone by those belonging to the PCCN Fredericton support group:
Radical prostatectomy
Radiation therapy
Brachytherapy
Indicated that robotic-assisted laparoscopy is not offered in New Brunswick but covered if patients were to go out-of-province
Noted that hormone therapy and drug treatments are available but not covered by Medicare unless administered in a hospital

Saskatchewan4

Provided a phone number to call and listed the following:
Surgery (no robotic-assisted radical prostatectomy)
HDR brachytherapy
Hormone deprivation therapy

Newfoundland and Labrador5

Provided the following list of treatment options:
Surgery
Radical prostatectomy (but no robotic-assisted)
Brachytherapy
HDR (LDR brachytherapy must be conducted in Moncton, New Brunswick)
Androgen deprivation therapy
Although not covered by provincial drug plan (only private insurance)
Chemotherapy
Although unsure of which pills are covered
Indicated that HIFU, Cryotherapy and Thermal ablation are not offered

Northwest Territories6

Noted that they offer the same treatments as Alberta as they use our oncologists and urologists

Ontario7

Indicated that standard treatments such as radiation and surgery are offered
HIFU and Proton therapy were listed as treatments not offered
Data table references:
Prymack, A (2018)
Sprott, B (2018)
Patterson, S 2018)
Ward, L (2018)
Hammond, L (2018)
Cancer Care Coordinator Stanton Territorial Hospital (2018)
Canadian Cancer Society, Hamilton (2018)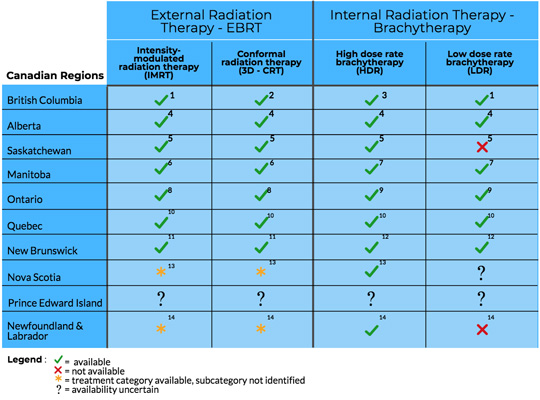 Data table references:
Provincial Health Services Authority. (n.d.). Prostate. Retrieved from http://www.bccancer.bc.ca/health-info/types-of-cancer/mens-cancer/prostate#Treatment
Vancouver Prostate Centre. (2017). Radiation treatment. In Vancouver Prostate Centre. Retrieved December 5, 2018, from https://www.prostatecentre.com/patient-information/diseases-prostate/prostate-cancer/treatments/radiation-treatment
Vancouver Prostate Centre. (2017). Brachytherapy. In Vancouver Prostate Centre. Retrieved December 5, 2018, from https://www.prostatecentre.com/patient-information/diseases-prostate/prostate-cancer/treatments/brachyotherapy
Healthwise. (n.d.). Radiation therapy for prostate cancer. Retrieved December 05, 2018, from https://myhealth.alberta.ca/Health/Pages/conditions.aspx?hwid=hw76948
Government of Saskatchewan. (n.d.). Prostate cancer treatment Options. Retrieved December 05, 2018, from http://www.sasksurgery.ca/patient/treatment.html
Cancer Care Manitoba (2018). Clinical fellowship in radiation oncology. Retrieved December 05, 2018, from http://www.caro-acro.ca/wp-content/uploads/2018/08/UofM-Radiation-Oncology-2019-2020.pdf
CancerCare Manitoba. (2010, May). Radiation . In CancerCare Manitoba. Retrieved from https://www.cancercare.mb.ca/export/sites/default/Treatments/.galleries/files/radiation-therapy-files/radiation-therapy-translations-files/Radiation_Facts-English.pdf
Yong, J. H. E., McGowan, T., Redmond-Misner, R., Beca, J., Warde, P., Gutierrez, E., & Hoch, J. S. (2016). Estimating the costs of intensity-modulated and 3-dimensional conformal radiotherapy in Ontario. Current Oncology (Toronto, Ont.), 23(3), e228-38. https://doi.org/10.3747/co.23.2998
Cancer Care Ontario, & Action Cancer Ontario. (2017, May 02). ASCO and cancer care ontario update guideline on radiation therapy for prostate cancer. Retrieved December 05, 2018, from https://archive.cancercare.on.ca/..._therapy_for_prostate_cancer/
Procure. (n.d.). Radiation therapy. Retrieved December 05, 2018, from http://www.procure.ca/en/prostate-cancer/treatment-options/radiation-therapy/
Horizon Health Network. (n.d.). Saint John Regional Hospital (SJRH) Site. Retrieved December 05, 2018, from http://en.horizonnb.ca/home/facilities-and-services/services/clinical-services/oncology/oncology-services-at-the-saint-john-regional-hospital/saint-john-regional-hospital-(sjrh)-site.aspx
Keyes, M., Crook, J., Morton, G., Vigneault, E., Usmani, N., & Morris, W. J. (2013). Treatment options for localized prostate cancer. Canadian family physician Medecin de famille canadien, 59(12), 1269-74.
Lawlor, A. (2016, June 16). A less invasive treatment. Retrieved December 05, 2018, from http://www.qe2times.ca/a-less-invasive-treatment-141
Eastern Health. (n.d.). Radiation Therapy. Retrieved December 05, 2018, from http://cancercare.easternhealth.ca/cancer-care-services/radiation-therapy/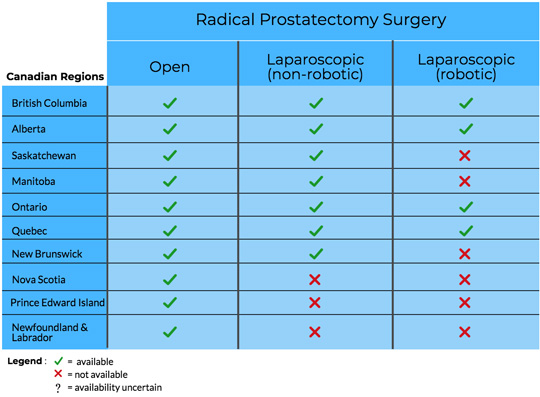 Data table references:
Canadian Institute for Health Information. (2014, August). Prostate Cancer Surgery in Canada - Canadian Institute for Health Information Retrieved from https://www.cihi.ca/sites/default/files/prostate_surgery_pubsummary_en.pdf