Date: March 18, 2018
Event: LA Marathon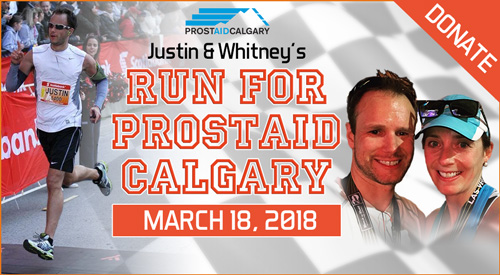 Established in 1986, the LA Marathon is one of the largest marathons in the country with more than 25,000 participants and hundreds of thousands of spectators. Completing a marathon is considered to be one of the most challenging and rewarding accomplishments a person can achieve. In 2018, Justin Ferguson & Whitney Hunter challenged both body and mind and run in support of PROSTAID Calgary to help raise awareness and support for our Society and our community programs and initiatives. Justin was be accompanied by his girlfriend and running partner, Whitney Hunter.


Thanks to your donations Justin & Whitney were able to raise more than $4,000 for PROSTAID Calgary.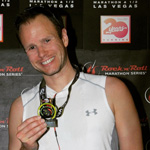 Justin Ferguson has long believed that no goal is too challenging and he takes this approach into everything he does. He believes that every one of us has the ability to make the world a better place with the right amount of effort. Justin will be putting his mind and body to the test on March 18 when he goes to the starting line to run the 42.2 KM LA Marathon course in support of PROSTAID Calgary. This promises to be a tough race, made tougher by the grueling training during a Calgary winter.
However, Justin believes it will be all worthwhile if he can do his part to help a good cause.
Justin has had two grandfathers pass away too early in their lives because of cancer, including one who died from prostate cancer before Justin was born. He recognizes that treatments and awareness have improved in the past 30 years but believes more needs to be done to continue to raise awareness, encourage people to seek early detection, and to find a cure.
Justin knows that prostate cancer is the most common cancer to affect Canadian men and wants to see more done. One in seven will be diagnosed with this disease in their lifetime. He challenges you to take a minute and put that in perspective; roughly 2.5 million of the 17.4 million men in Canada today will suffer from this disease.
Justin will run the kilometers during the race, and he will run the kilometers in training but he needs everybody's support in helping PROSTAID Calgary do their part.
PROSTAID Calgary has 3 missions: To provide peer-to-peer mutual support for men and their families on their journey with prostate cancer; To increase public awareness of the disease; and To advocate for a strong provincial voice in matters relating to prostate cancer.
Justin has run 7 marathons and understands the time it takes to train, prepare both physically and mentally, and to run the race itself. It is an undertaking but one that he happily does, especially when he can do it to support a better future for those who are suffering, have lost loved ones, or who just want to see a healthier society.

Whitney's Bio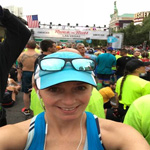 Whitney has always believed that sport has the ability to change the world. Growing up in Ottawa her love of sports and desire to make a meaningful difference in her community came together regularly with charity runs and canned food drives with her hockey teams. It is with this passion for sport that she embarks on her next challenge, the LA Marathon. 42.2KM is a long way, especially when the training will be done during the Calgary winter. Making it worthwhile will be the encouragement and support of PROSTAID Calgary.
Whitney has run two marathons and four half marathons and what keeps her going is knowing that she is running for those who can't. She runs for her grandfather who beat prostate cancer when she was a child and for all of those suffering from the disease now.
PROSTAID Calgary is a recognized Canadian charity. All donations will receive a charitable tax receipt issued by PROSTAID Calgary.