Established in 2014, the Pathfinder's Award recognizes individuals who have contributed significant service to helping men and their families deal with prostate cancer. See below for previous winners and their ceremonies.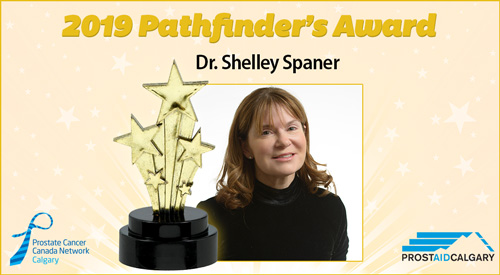 Dr. Shelley Spaner is our 2019 Pathfinder's Award recipient. She is a specialist in diagnostic radiology at Mayfair Diagnostics where she became a partner in 2003. Dr. Spaner has provided medical imaging and specialized radiology services in Calgary, across Southern Alberta, Saskatchewan, the Yukon and the North West Territories. Shelly is a member of the Alberta Society and the Canadian Association of Radiologists, the Society of Abdominal Radiologists, along with the Radiological Society of North America.
Shelley became a Board Member at the Prostate Cancer Center in Calgary in 2015, and in 2017, founded the initiative called "Women for Men's Health". Motivated by the visible gap in the current system, which frequently sees men "fall through the healthcare cracks" the primary goal is to shift men's behaviour towards preventing treatable disease and maintaining good health, as well as mobilizing women in this effort.
This Award is presented to individuals who have made a significant contribution through education, research, support, and leadership afforded to men and their families who are dealing with prostate cancer. Dr. Spaner has demonstrated the highest level of excellence and leadership and contributed significant advancements in prostate cancer research and treatment.
Dr. Spaner is no stranger to PROSTAID Calgary having given several presentations to our meetings. Many of our members are beneficiaries of Dr. Spaner's work for which we are most grateful.
Congratulations Dr. Spaner.