Established in 2014, the Pathfinder's Award recognizes individuals who have contributed significant service to helping men and their families deal with prostate cancer. See below for previous winners and their ceremonies.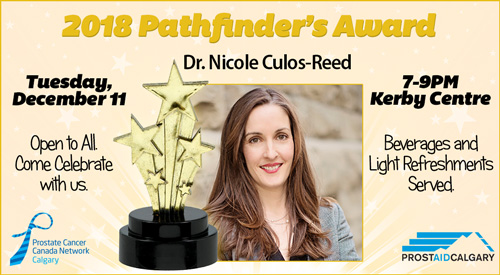 Pathfinder's Award Celebration
WHEN: Tuesday, December 11, 7:00pm - 9pm
WHERE: The Kerby Centre 1133 t Ave SW Calgary, Alberta
COST: Open to the public and free to attend
The Pathfinder Award is given to individuals who have made a significant contribution to the education, research, treatment, and support for men and their families dealing with prostate cancer.
Dr. Nicole Culos-Reed is our 2018 Pathfinder's Award recipient. She is a Professor in Health and Exercise Psychology in the Faculty of Kinesiology, and a Professor in the Department of Oncology in the CUMMING SCHOOL of Medicine, University of Calgary. She is a Research Associate with the Department of Psychosocial Resources at the Tom Baker Cancer Centre.
Much of her work deals with physical activity for cancer survivors, the psychological factors that they experience, and focuses on improving their quality of life.
Nicole leads the Health and Wellness Lab, which focuses on delivering community-based, 12-week physical activity programs. For prostate cancer survivors and their families, this has included the TrueNTH Lifestyle Management Program.
Dr. Culos-Reed along with Dr. Lauren Capozzi, also founded the Thrive Centre, where many of the research programs begin. This currently includes the Alberta Cancer Exercise (ACE), program, which is offered at the Thrive Centre, Wellspring Calgary, City of Calgary Recreation Centres, and the YMCA.
Nicole is no stranger to PROSTAID Calgary having given several presentations to our meetings. Many of our members are beneficiaries of Nicole's programs for which we are most grateful.